Regular price
Sale price
$49.99 CAD
Unit price
per
Sale
Sold out
Le programme Santé et Tonus 50 ans et + de MédicalFit est un service en ligne dédié aux personnes âgées de 50 ans et plus, soucieuses de maintenir une bonne santé, un bon tonus musculaire, l'équilibre et la mobilité. Conçu par nos kinésiologues qualifiés, ce programme propose un plan d'entraînement personnalisé sur une durée de 6 semaines, adapté à votre niveau d'expérience et à vos besoins spécifiques.
Notre objectif principal est de vous aider à rester en forme et à préserver votre bien-être général. Le programme "Santé et Tonus" de MédicalFit comprend une variété d'exercices spécifiquement sélectionnés pour renforcer vos muscles, améliorer votre équilibre, stimuler votre flexibilité et maintenir votre mobilité. Ces exercices sont conçus pour être réalisés en toute sécurité et sont adaptés aux capacités physiques des personnes de 50 ans et plus. 
Que vous soyez débutant, intermédiaire ou que vous ayez déjà une expérience en matière d'activité physique, notre programme propose des niveaux de difficulté adaptés à votre condition physique actuelle. Chaque plan d'entraînement comprend des séances ciblées pour renforcer votre corps et vous aider à conserver un bon tonus musculaire. Les exercices incluent des mouvements fonctionnels, des étirements, des exercices de renforcement musculaire et des activités axées sur l'équilibre.
En rejoignant le programme "Santé et Tonus" de MédicalFit, vous aurez accès à notre plateforme en ligne conviviale, où vous trouverez des vidéos d'exercices détaillés, des instructions claires et des conseils pratiques. Nos kinésiologues sont également disponibles pour répondre à vos questions et vous apporter un soutien personnalisé tout au long de votre parcours.
Investissez dans votre bien-être et rejoignez dès maintenant le programme "Santé et Tonus" de MédicalFit. Découvrez une approche complète de l'entraînement spécialement conçue pour répondre aux besoins des personnes de 50 ans et plus, et maintenez votre santé, votre tonus musculaire, votre équilibre et votre mobilité pour une vie active et épanouissante.
Free shipping with purchase of $100+

Shipping is free for any purchase of $100 or more. We also offer the possibility of picking up the order directly at one of our branches in Sherbrooke.
Returns and Refunds Policy

For more information on our returns and refunds policy, visit our Policy page
To share
View full details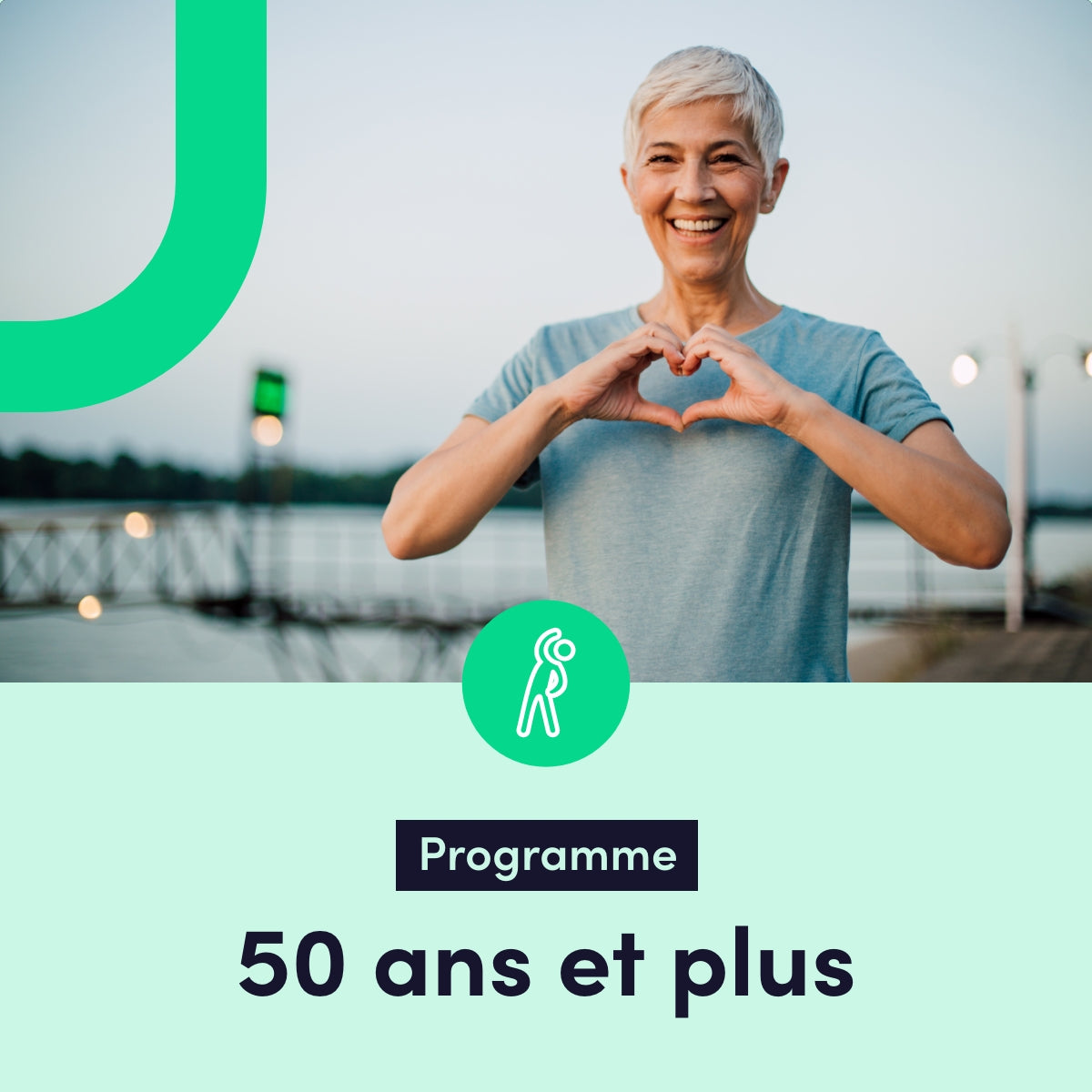 The card that offers everything!
The Maxiclub gift card allows you to offer health. This card is the ideal gift, because it allows you to offer a subscription to the Center Médico-Sportif Maxiclub in Sherbrooke, the services of health professionals from the multidisciplinary team MédicalFit in Sherbrooke or remotely or equipment, accessories or supplements on Health Purchase.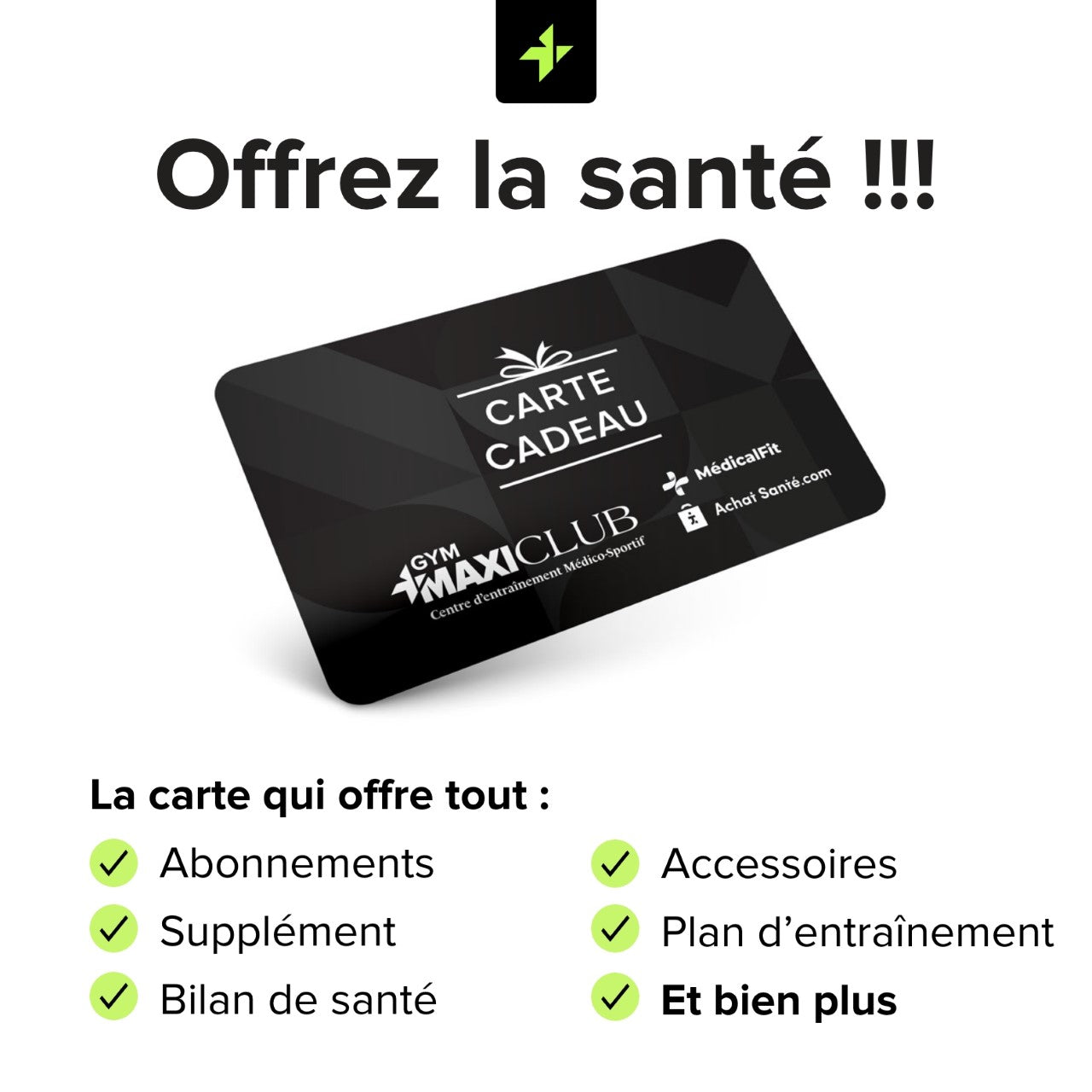 MaxiClub gift card
Regular price
Sale price
$25.00 CAD
Unit price
per
Sale
Sold out
Share
View full details