Regular price
Sale price
$49.99 CAD
Unit price
per
Sale
Sold out
Le programme Gain de masse musculaire de MédicalFit est un service en ligne conçu par nos kinésiologues qualifiés pour vous aider à atteindre vos objectifs de développement musculaire de manière saine et efficace. Ce programme propose un plan d'entraînement sur mesure d'une durée de 6 semaines, avec une progression adaptée à votre niveau d'expérience. 
Chaque plan d'entraînement est spécifiquement élaboré pour favoriser le gain de masse musculaire en combinant des séances d'entraînement variées et stimulantes, des techniques spécifiques à l'hypertrophie et bien plus. Que vous soyez débutant, intermédiaire ou avancé, notre programme offre trois niveaux de difficulté qui vous permettront de progresser de manière graduelle et d'optimiser vos résultats.
Le programme "Gain de masse musculaire" comprend un plan détaillé pour plusieurs journées différentes, offrant ainsi une variété d'exercices pour maintenir votre motivation et optimiser votre entraînement.
Si vous êtes débutant, notre programme offre un suivi sur plusieurs semaines, vous permettant de progresser à travers les différents niveaux d'expérience. La progression est un élément clé de notre approche. À mesure que vous avancez dans les niveaux de difficulté, vous constaterez une augmentation de l'intensité et de la complexité des exercices, ce qui permet à votre corps de s'adapter progressivement aux nouvelles demandes physiques. Cette progression assure des résultats durables et une évolution constante vers vos objectifs de gain de masse musculaire.
En achetant le programme "Gain de masse musculaire" de MédicalFit, vous découvrirez une approche complète de l'entraînement, spécifiquement conçue pour vous aider à développer vos muscles de manière sûre, efficace et équilibrée. Grâce à notre plan d'entraînement personnalisé, à la progression adaptée à votre niveau et à une durée de 6 semaines, vous serez guidé de manière professionnelle vers le succès de votre parcours de développement musculaire.
Free shipping with purchase of $100+

Shipping is free for any purchase of $100 or more. We also offer the possibility of picking up the order directly at one of our branches in Sherbrooke.
Returns and Refunds Policy

For more information on our returns and refunds policy, visit our Policy page
To share
View full details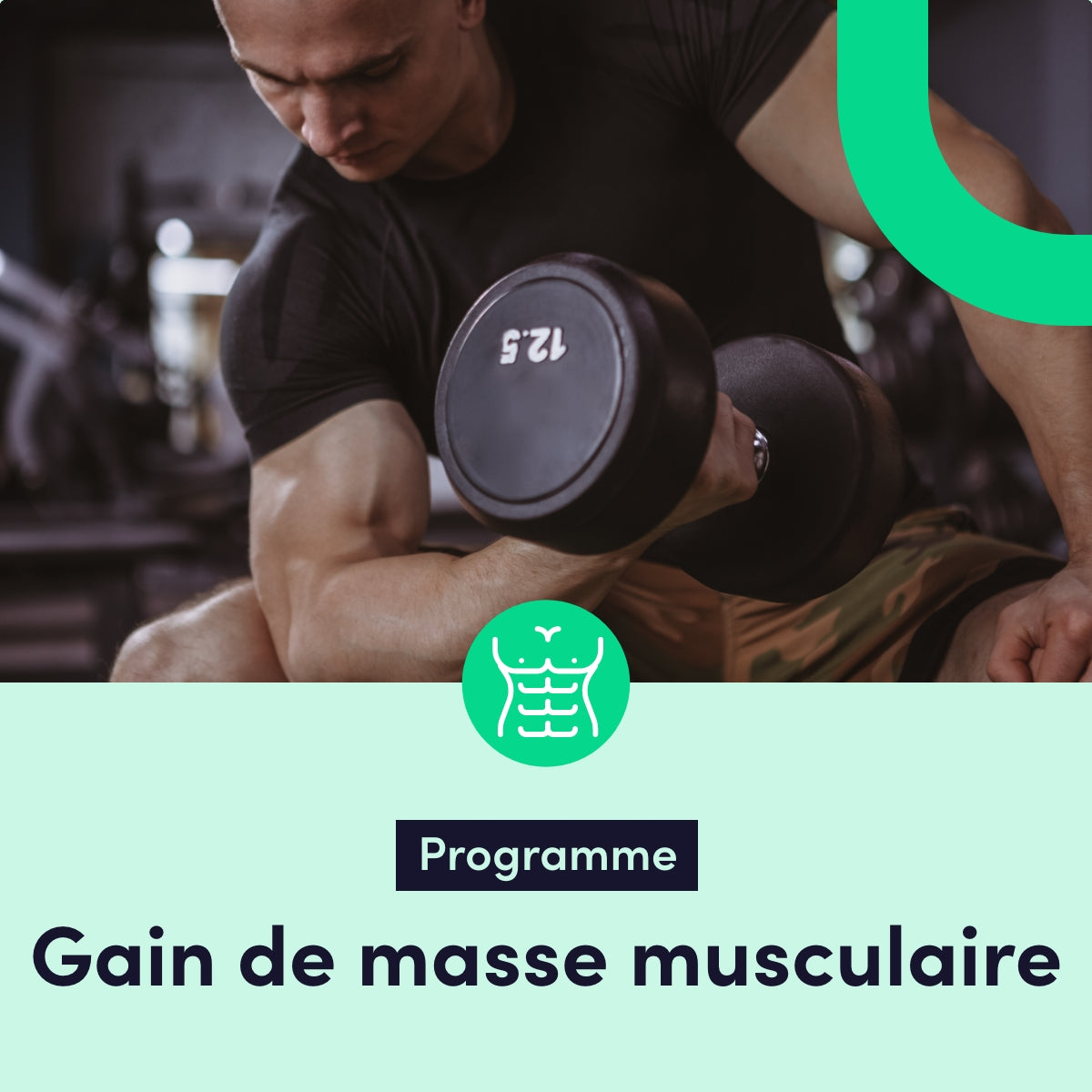 The card that offers everything!
The Maxiclub gift card allows you to offer health. This card is the ideal gift, because it allows you to offer a subscription to the Center Médico-Sportif Maxiclub in Sherbrooke, the services of health professionals from the multidisciplinary team MédicalFit in Sherbrooke or remotely or equipment, accessories or supplements on Health Purchase.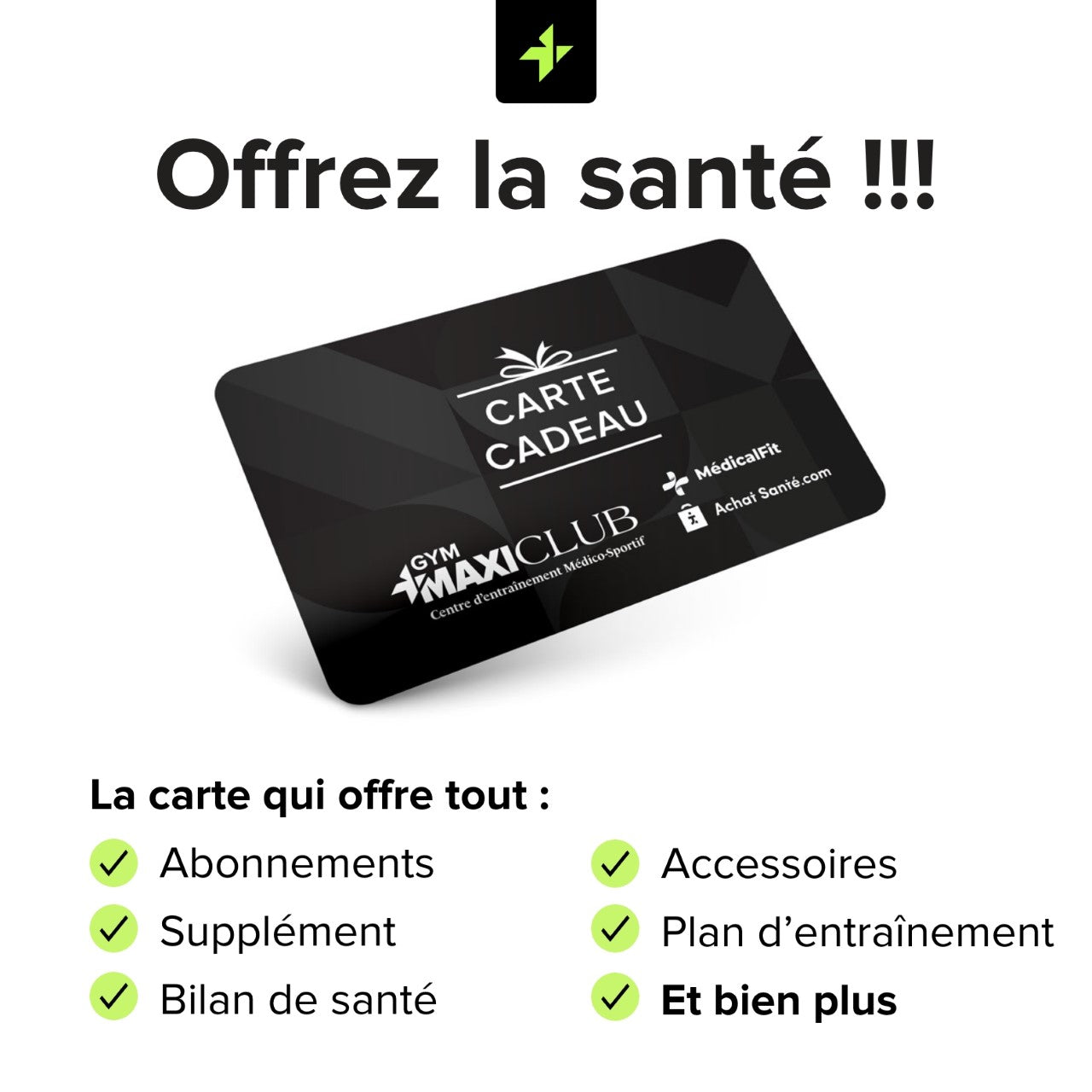 MaxiClub gift card
Regular price
Sale price
$25.00 CAD
Unit price
per
Sale
Sold out
Share
View full details