Regular price
Sale price
$85.21 CAD
Unit price
per
Sale
Sold out
Here is a unique trio that will allow you to achieve your weight loss goals while optimizing your health.
To do this, we have prepared products that work in synergy. The objective of this one is to allow you to better metabolize your food, better eliminate your toxins in addition to optimizing your hormonal systems. So here is the best, healthy and effective weight loss formula. Which moreover, will benefit you in a lasting way.
In this trio, you will find the ENERGY BURNER from BELIEVE, which is one of the most innovative weight loss formulas, formulated to combine maximum efficiency and a catchy taste.
Provides antioxidants.
Aids in the muscle recovery process by reducing muscle tissue damage associated with a workout regimen. Helps support fat metabolism. Supports healthy glucose metabolism. Helps the body metabolize carbohydrates and fats.
IMPORTANT ELEMENT! Mood, weight gain, appetite, and even overall health are greatly affected by estrogen. To do this, we have added ESTRO-X for you.
The reason is, unfortunately, there are still many people who believe that we should eliminate estrogen, rather help it to be better metabolized and balanced with other hormones (like progesterone).
The human body is equipped with mechanisms that should hypothetically take care of balancing these hormones, but sometimes these need a little support to function optimally.
To better understand this phenomenon, here is an explanatory link: Estrogen signaling in metabolic inflammation - PubMed (nih.gov)
To conclude, we added a mixture of fatty acids with LIPIDRIUM from the company ATP LAB. This mixture is composed of borage oil, known for its protective properties, especially at the level of DNA and mutations that can lead to cancers such as breast cancer. Here is an explanatory link: Protective effect of borage seed oil and gamma linolenic acid on DNA: in vivo and in vitro studies - PubMed (nih.gov)
You will also find CLA, an important element in terms of appetite and level of satiety. We have attached a study link on this subject: Effect of conjugated linoleic acid supplementation after weight loss on appetite and food intake in overweight subjects - PubMed (nih.gov)
Of course, LIPIDRIUM contains omega 3, an important molecule in the management of inflammation and the control of an alkaline environment. A winning formula to obtain healthy and lasting results.
DOSAGE
ENERGY: 1 scoop at lunch and 1/2 scoop at dinner (while eating)
ESTRO-X: 2 capsules 2x/day
LIPIDRIUM: 2 capsules 2x/day
Free shipping with purchase of $100+

Shipping is free for any purchase of $100 or more. We also offer the possibility of picking up the order directly at one of our branches in Sherbrooke.
Returns and Refunds Policy

For more information on our returns and refunds policy, visit our Policy page
To share
View full details
The card that offers everything!
The Maxiclub gift card allows you to offer health. This card is the ideal gift, because it allows you to offer a subscription to the Center Médico-Sportif Maxiclub in Sherbrooke, the services of health professionals from the multidisciplinary team MédicalFit in Sherbrooke or remotely or equipment, accessories or supplements on Health Purchase.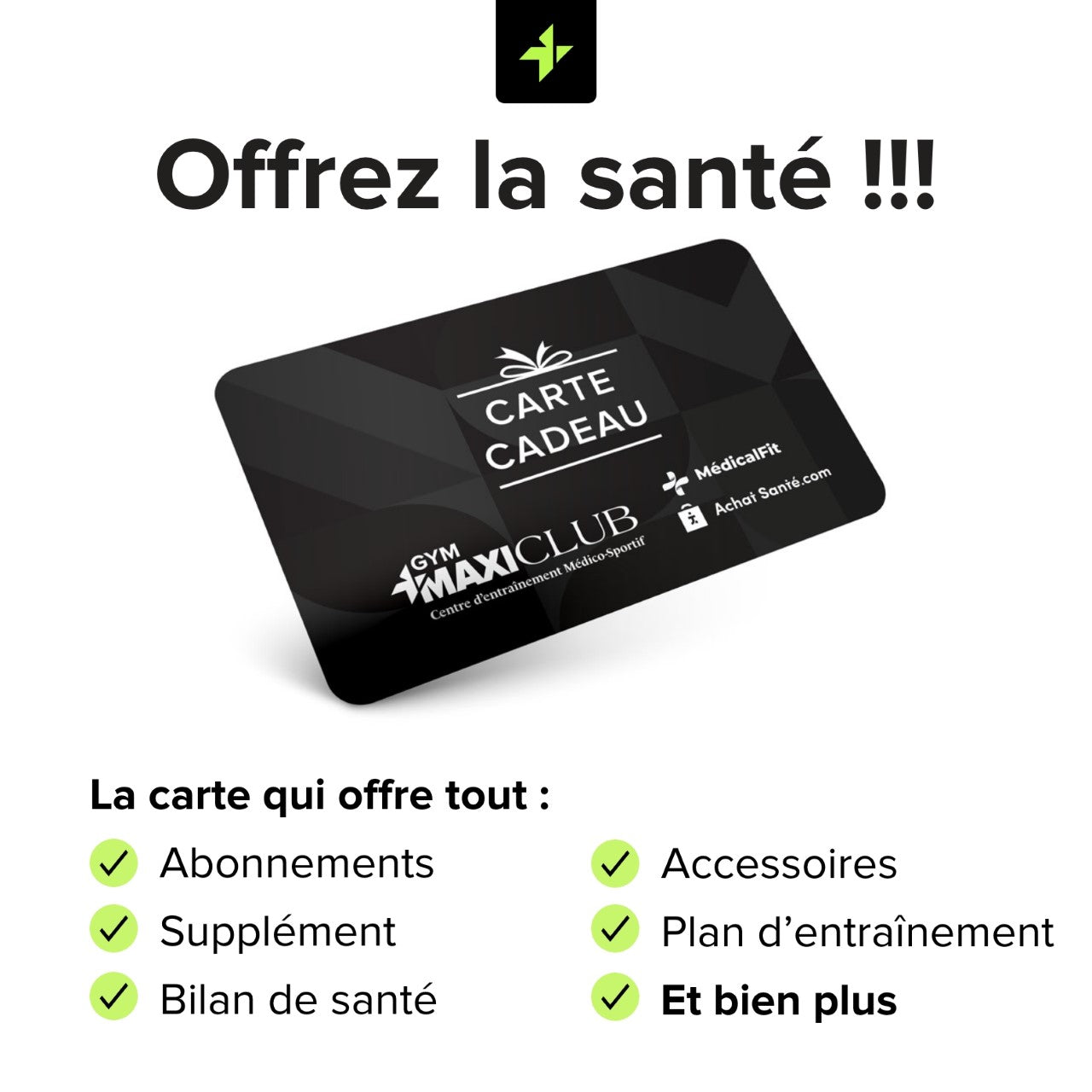 MaxiClub gift card
Regular price
Sale price
$25.00 CAD
Unit price
per
Sale
Sold out
Share
View full details